Nov. 28, 2002. 08:32 AM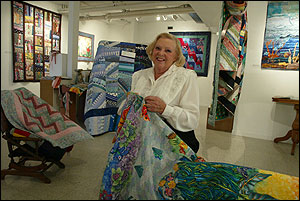 RON BULL/TORONTO STAR Tenant Barbara Elias displays her quilts in the gallery of her co-op at Queens Quay and Bathurst. She lives just a few floors above.
For these co-op tenants, home is where the art is
Barbara Elias breezes through her gallery of quilts, where every wall is a flourish of fabric.
"This is the one I call Catching Sushi," she explains. "It's a sweet little quilt. I bought this fabric in Japan."
The wall hanging depicts an angler and his catch in vivid colour, every stitch a smiling squiggle.
Elias dotes on every detail of the work. Jasper, an Irish wolfhound "with a bit of something else in her," watches from her side, as if soaking up the art lesson.
"This is a boat lost in the storm," the 50-something Elias continues, pointing at another design. Dolphins, whales and birds frolic on different strips of material, each representing the flotsam and jetsam of the sea.
"Everything's upside down and convoluted."
After the tour, she closes the gallery and catches the elevator. Home.
The artist lives only a few floors above the art gallery.
Potters, too, are only an elevator ride from their kilns, photographers steps away from a darkroom.
At Queens Quay and Bathurst St., more than 300 people make up this truly diverse quilt: the Arcadia Artists' Co-op.
Hemmed in by the lakeshore's condo ghetto, this seven-storey building carves out a quiet perch. There's little traffic, save for the occasional small plane that dawdles over the island airport. Inside, large tile floors take on a rusty glow from warm lights in the entranceway. Benches outside are flanked by plants, hinting at the sprawling rooftop gardens above.
A wooden plaque outside Barbara Elias's one-bedroom apartment bears her name.
Arcadia may boast more studios, free space and soul than a few blocks of Queen St. W., but it's not reflected in the rent. It's less than $800 for a one-bedroom apartment. That's about $200 lower than most downtown rentals. In lean times, tenants may also have their payments reduced.
"For artists, it's feast or famine," Elias says.
Every year, income is examined and if it's especially high or low, rent is adjusted. More than 45,000 people living in Toronto's co-ops enjoy lower than market rents. Part of the reason is that co-ops are generally not for profit. Instead, residents live like roommates, pitching in to keep the place clean and paying off one very large mortgage.
Most of the 160 co-op rental buildings in the city are long-term rentals. At Arcadia, most people have spent too much time on the waiting list to bail out early. When children grow up, they often put their names on the internal waiting list. Unlike most rentals, tenants are allowed to make sweeping renovations. Elias tore down a couple of walls in her kitchen to create some eat-in space.
The tricky part is getting in.
`You're renting here. But you don't feel you are. You're part of the community'
Barbara Elias, co-op tenant
"You have to have a career in the arts," says Elias, who's been living at Arcadia for 15 years. "You have to be an artist."
Not a con artist.
Blow a pan flute for a living? A pan flautist will interview you. If one can't be found, a pianist may fill in. Then, maybe, you can get on the waiting list — a process that could take years. Current residents get the inside track. Even couples who divorce can still be neighbours at Arcadia — still compost on the roof, recycle in the basement. And lobby city hall.
"We're very, very vocal on this airport," Elias says, "No development of the airport."
Arcadia, she says, has been a bulwark in warding off mega-development in the area.
"If it hadn't been for this building there would be a 20-storey highrise across the street."
"You're renting here," she adds, "but you don't feel you are. You're part of the community."
That might be the trickiest membership requirement of all — to be an artist and a good neighbour. You won't have to bake sweet somethings for your neighbour's niece's birthday. But you can't hide away, unscrubbed and unshaven, for very long. Residents must belong to at least two of the 20 committees that convene regularly at Arcadia.
The first one's usually easy. There's a committee for most of the artistic disciplines. Painters will naturally gravitate toward painters. After that, you're on your own. There are no quilting committees at Arcadia — yet. So Elias belongs to the gardening committee and the workshop committee.
No one throws a building party quite like the social activities committee.
Maybe that's because no one else is allowed to.
Or maybe because no one else can bring all those other committees together so seamlessly.
The poets' committee will likely have a few choice words to fit the occasion. The jazz committee will blow a horn or two. The pottery committee might even whip up an urn.
A comedy of committees? It may be better than the tragedy of the downtown highrise:
Thousands of people, clumped in close quarters. Riding the elevator. Doing laundry. Side by side. And never saying a word to each other.
The bustling committees of Arcadia have held a community together since 1986. With as much passion as Barbara Elias puts into every stitch.
For more information about co-ops, check out the Co-operative Housing Federation of Toronto at http://www.coophousing.com
---
The article has been reprinted from The Toronto Star, November 28, 2002