The work which was originally displayed here has now been re-organized to provide the content for two new sites. Current work available for sale can be found at www.ExquisiteDreams.com. Past work, in private homes and collections, can be viewed at my new quilt archive www.ExquisiteQuilts.com.
Feature Quilt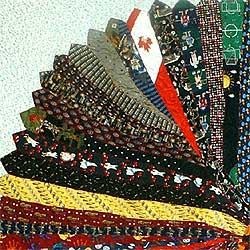 About 9 months ago I received an email requesting a quote on making a wall hanging out of silk ties.

68 silk ties and six months later, this dramatic 9 ft. X 9 ft. wall hanging was the result.

There were two main challenges to creating this quilt. I was working with silk fabric cut on the bias and had to cut away the back of the ties, along with the interfacing, for them to lay flat, so the pieces I was working with were long and skinny and VERY unstable. Also not all of the ties were the same width so getting them all to fit in the centre was a huge problem. I finally anchored them in red silk thread, using a fancy machine quilting stitch, from the centre to the edge down the sides of each tie.

The finished top was layered and over-quilted by Toni on her long-arm machine.
---
Please continue to visit my various Web sites and send me an e-mail if you are so inclined. I can always be reached at barbara@BarbaraElias.com
Best Wishes,
Barbara